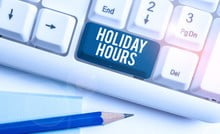 The debate regarding holiday pay continues as a consultation is launched with regard to the calculation of holiday entitlement for workers with irregular hours and pay.
Back in July 2022, a decision was made by the Supreme Court which afforded a music teacher working only during school term, annual leave entitlement of 5.6 weeks calculated on the same basis as if working all year round – in the case of Harpur Trust V Brazel. Many saw this decision as unfair as the teacher received disproportionate holiday pay in comparison with staff working all year round.
This decision had potentially significant consequences for agencies and umbrella engaging workers with irregular work patterns, and periods in which they are not working. This has led to much scaremongering regarding PAYE temps and the use of a 12.07% calculation.
The consultation will be open until 9th March 2023.
Click here for more information regarding the Harpur Trust v Brazel case, including why PAYE Agency contracts are unaffected.
For further advice, please contact us.